HO CHI MINH CITY, Vietnam – C.P. Vietnam announced that it has kick-started its HR digital transformation journey with SAP SuccessFactors solutions, at Head Office, Bien Hoa City, Dong Nai Province, to help the company enhance its HR capabilities and leverage real-time analytics for better business decisions and capabilities, flexibility and extensibility, and open platform strategy.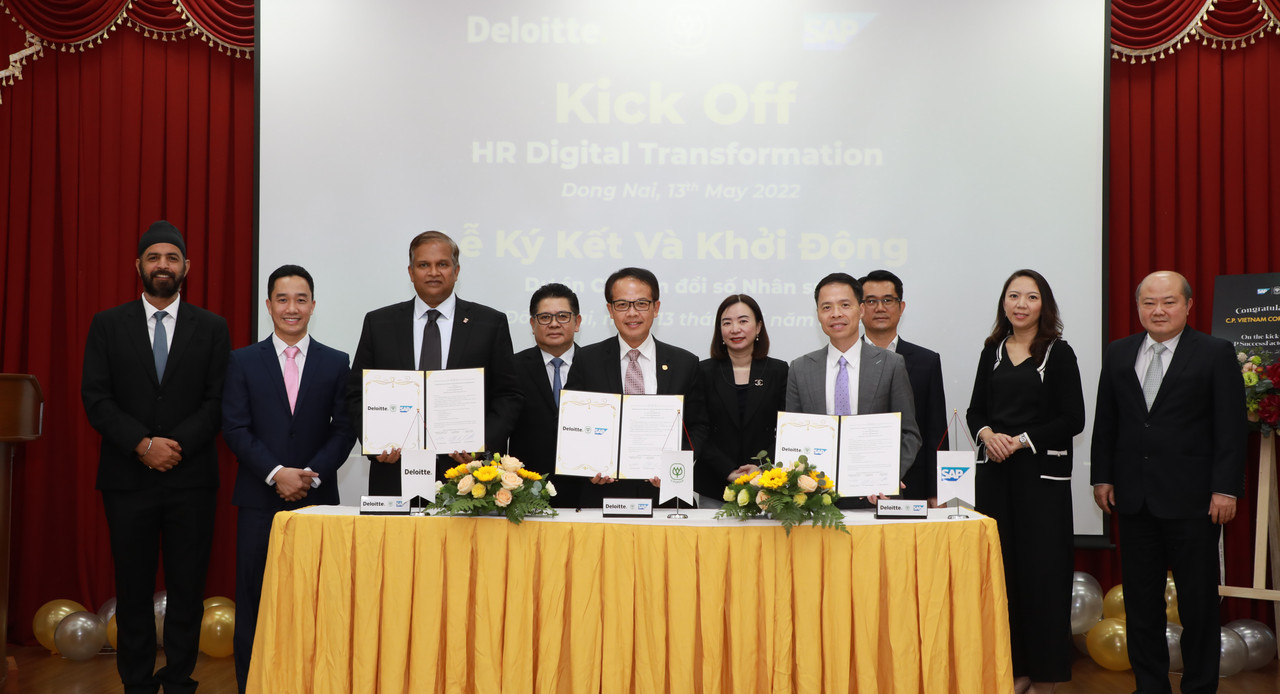 CP Vietnam expects not only to reduce costs and drive greater operational efficiency but also to deliver an enhanced employee experience consistent with its mobile-first, cloud-first philosophy that attracts and retains talent, fosters employee engagement and drives improved business outcomes.
C.P. Vietnam is an FDI enterprise that operates in the closed agro-industry and food. Established in 1993, the company has steadily grown to become Vietnam's leading food conglomerate, covering both livestock and aquaculture businesses. The company's food products not only meet the needs of the domestic market but are also developing and holding a high position on the world's export map.
The "shock" of the COVID-19 pandemic has caused significant disturbances for many enterprises, including C.P. Vietnam. Faced with these challenges, C.P. Vietnam must develop an appropriate response strategy to ensure business operations, maintain social responsibility, and care for over 30,000 employees.
Foster People with Innovation
As a company with a large workforce spread across the country, C.P. Vietnam, therefore requires a significant amount of time and resources to manage human resources, analyze data, report, and make HR decisions. Meanwhile, business industry requirements are increasing, requiring accurate reporting data and a quick approval process in order to meet employee experience and connect the needs of the young generation, dynamic, and technologically savvy.
To adapt to the new situation, the company decided to go digital, assisting in the transformation of HR processes into an automated, data-driven process and integrating standards and best practices from around the world.
"The current market conditions provide a great opportunity for agricultural companies to step into the digital world, catch up with trends with global companies, and streamline our own operational activities management activities for better speed and accuracy," said Mr Chinoros Benjachavakul – Senior Vice President in charge of Human Resources and External Relations C.P. Vietnam.
HR Transformation in Cloud Powers Business Growth at CP Vietnam
"CP Vietnam recognizes that transformation requires simplifying that operating processes, but just as importantly, as one of the leading companies in the production and construction of food security, it also realizes the importance of providing its people with cloud-based solutions that are cool and easy to use", said Mr. Montri Suwanposri, President of C.P. Vietnam.
The cloud-based SAP SuccessFactors solutions provide a consumer-oriented user experience including modern user interface design and embedded collaboration capabilities, delivered with device of choice – all which will enable CP Vietnam to drive user adoption, engagement and employee collaboration. With the SAP SuccessFactors HCM Suite, CP Vietnam will be equipped to improve employee engagement and realize the business benefits and ROI of its HR technology investment.
"Using SAP SuccessFactors HCM Suite, we've significantly reduced complexity by standardizing HR processes on one easy-to-use, accessible platform. This will increase transparency and access to employee data for better insights and decision-making and enable CP Vietnam to have a new strategy and vision for the digital era, to help the company achieve the set goals and lay the foundation for greater digital transformation later. Creating a more productive an engaging workforce promoting employee growth and happiness that management and employees are united under one company culture." said Mr. Chanin Ruethaithananon – HR Strategy Director of C.P. Vietnam.
The SAP SuccessFactors project at CP Vietnam covers end to end HR business processes & employee experience modules such as Core HR, Recruiting, Onboarding, Learning, Performance and Goal, Succession Planning & Career Development and Workforce analytics and planning.  The project's implementation will take between 6-8 months and is expected to go-live in early 2023. CP Vietnam sees this a large-scale strategic project to support CP Vietnam's human capital management and development in the coming years.
"In today's digital economy, having an integrated and real-time human capital management system is no longer a choice but an essential piece of any businesses' infrastructure," said Mr. Nguyen Hong Viet, Managing Director, SAP Vietnam.  "SAP SuccessFactors solutions will help CP Vietnam consolidate and streamline their HR processes, which will increase transparency and access to employee data for better insights and decision-making.  This will result in higher employee productivity, lower turnover rate, and better upskilling capabilities so that the entire workforce can become competent and ready for global expansion opportunities. We are pleased to support CP Vietnam to realize their "Kitchen of the World" vision through the continuous delivery of high quality, nutrition, hygiene, and safe food for customers based on environmentally friendly production standards and sustainable management principle."
For more information, press only:
Wuttinan Thongnuadee:  wuttinan.thongnuadee@sap.com