VIETNAM — Unprecedented global disruption has created seismic shifts in how we work, where we work and with whom we do business as people rethink how to fit work into their lives instead of the other way around. In addition, macro-economic challenges like stagflation, the global recession worries, and supply chain woes weigh heavily on our minds.
As the concept of work continues to evolve, human experience at work is now more important than ever for employers that want to create a sustainable workforce and profitable business. This emphasis and urgency for businesses to focus on the employee experience, is not just yet another buzzword or jargon that Vietnamese companies should be brushing aside.
This was revealed at a recent HR leadership dialogue series organized by SAP titled 'Sustainable Workforce – Trends Impacting Your People', which brought together HR leaders across a wide range of industries such as banking & finance, real estate, FMCG, building & construction – including Vietcombank, Techcombank, Novaland, Coca-Cola and Daikin Vietnam.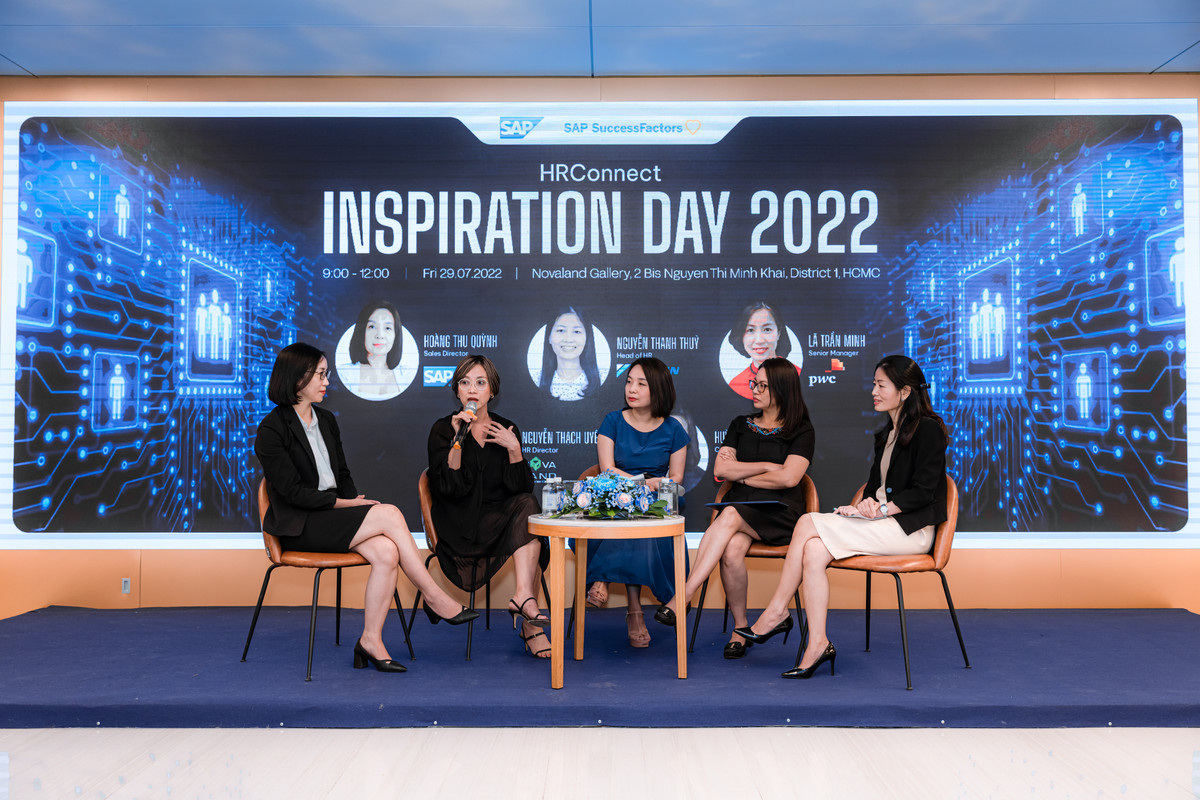 According to a new study from Forrester, commissioned by SAP, Qualtrics and EY, Employee experience is at an inflection point as organizations look to support an increasingly remote workforce while maintaining culture, flexibility, and productivity. The study also confirmed that employee experience initiatives can drive immense benefits for the overall business. HR leaders said that employee experience initiatives have a positive impact on workforce agility (59%) and organizational agility (67%). Meanwhile, nearly 80% of employees said that employee experience initiatives improve their productivity and quality of work. This translates into increased revenue, according to the 77% of HR leaders who said that employee experience initiatives have increased revenue and the 61% who said they saw improved profitability.
Daikin Vietnam, which currently holds the No. 1 position in Air conditioning industry, sees HR transformation as an integral part of the company's digital strategy to enabling HR as the Strategic business partner.  The company's ultimate goal is to enhance employee's experience (from Hire-to-retire) and strengthen the company's status as the best place to work in Vietnam. With this in mind, Daikin Vietnam embarked on a HR digital transformation journey with SAP SuccessFactors, making it one of the first digital HR implementation in Vietnam's HVAC sector.
"We have adopted SAP SuccessFactors solutions for HR Transformation to Cloud based solutions to fulfil Daikin's vision and mission and transcendent new experiences for our employees" Nguyen Thanh Thuy, Head of HR, Daikin Vietnam said. "This implementation provided our employees anywhere and anytime accessibility to HR services in a 100% self-service format.  Not only this, the company was able to reduce between 3-10 working days the time it takes to complete a HR process and eliminated up to 75% of paper-based HR decisions.  The deployment of SAP SuccessFactors is an integral component of Daikin Vietnam's effort to create a more agile Human Resource model, and is testament to their strategic focus on the employee experience." Thuy added.
Transforming HR Operations to Achieve Desired Business Outcomes
Talent is one of the key drivers for Vietcombank's operations, forming a substantial proportion of the bank's strategic development plan. Empowering employees with the right tools to standardize business processes, integrate seamlessly with other IT systems and support leadership's decision-making process are critical in addressing Vietcombank's HR challenges– areas where technology and digitalization play a critical role, according to Mr. Hong Quang, Member of the Board of Directors and Head of Human Resources Department at Vietcombank.
"Prior to the implementation of SAP SuccessFactors, the key HR challenges we faced were centered around reporting accuracy, high levels of paper work and slow approval processes", said Mr. Hong Quang.  After the completion of Phase 2 implementation, Vietcombank was able to completely revamp its HR processes in an automated and self-service manner, boost employee's productivity by aligning individual goals with organization goals and improve overall employee satisfaction levels.
In addition, SAP SuccessFactors allowed better transparency and access to employee data for better insights and decision-making. For example, with better insight into the current skills of our workforce, we can align training closely to our employees' working process, and effectively re-skilling our workforce for the digital economy", Mr. Hong Quang further added.
Employee Centricity at the Heart of the Digital Path to Sustainability
Speaking at the fireside chat, Nguyen Thach Uyen Vy, HR Director, NovaGroup, outlined the company's digital path to sustainability to enable people to perform their best, enhance operational efficiencies and transforming HR to a strategic business partner status.
"Our move towards digital HR transformation is aimed at creating an employee-centric and data driven business operation.  This entails driving e-HR processes, enhancing employee experience, enabling people analytics and empowering people leaders.  We see technology as a key enabler to achieve this, particularly in digitalizing our core HR processes to enable greater visibility, more agile and responsive processes as we digitally transform to efficiency," said Nguyen Thach Uyen Vy, HR Director, NovaGroup
However, it would be wrong to assume that the digital HR transformation would be all smooth-sailing, noted  Uyen Vy.  "As with any business transformation project, managing change is always tough work.  This is why Novagroup made it their priority to always put employee centricity first and foremost by embracing changes and adapt to new trends to remain relevant to the new generation of workers.  According to Uyen Vy, Novagroup achieved this by championing leaders as role models, allow transition time especially for new business groups or companies that may need more time to familiarize with the new system, and last but not least, make learning as refreshing a routine as a drumbeat.
Mr. Nguyen Hong Viet, Managing Director, SAP Vietnam commented. "The future of work is not only here but it's changing right before our eyes. In its true calling to be a sustainable, intelligent enterprise, you need to put people at the center of business. Connecting data, technology, and business strategy enables every organization to create a sustainable workforce where employees have the agency to shape their careers and feel valued for their contributions is paramount to meet your desired business goals. Companies that embark digital HR transformation will enjoy faster rates of innovation, higher market share gains, and greater operational efficiencies than their industry counterparts."
For more information, press only:
Wuttinan Thongnuadee:  wuttinan.thongnuadee@sap.com