BANGKOK — Bangkok Glass Public Company Limited (BG), is one of the large companies in Thailand and well-known as a total packaging solutions provider, clean and renewable energy, construction materials, sport and others, has partnered with SAP and ABeam Consulting Thailand, leading global business and digital transformation consulting firms, to accelerate its digital transformation journey in a move that solidifies the latest milestone in their long-standing partnership as BG undertakes one of Thailand's largest corporate transformation projects based on SAP ERP software through RISE with SAP, designed to fuel the company's growth and better support its clients.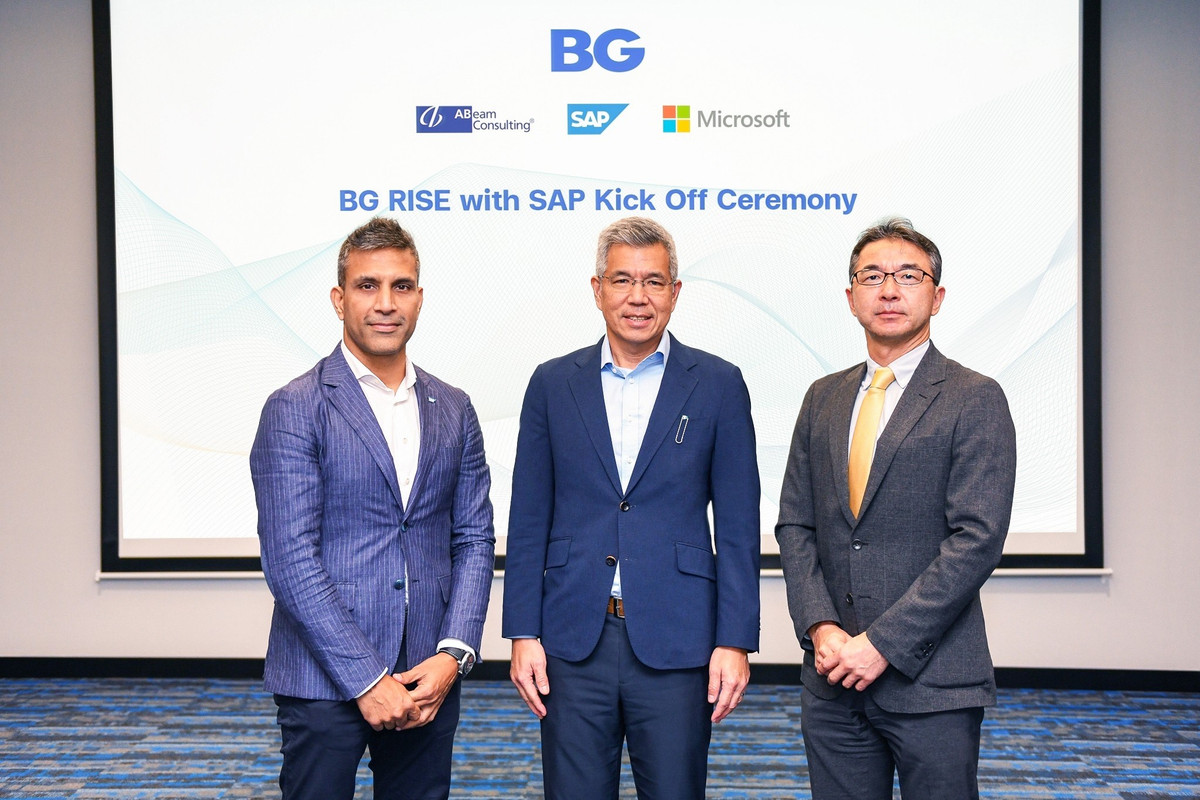 As part of the expanded partnership, BG is migrating to SAP S/4HANA, SAP's next-generation ERP software with RISE with SAP S/4HANA Cloud, private edition in Microsoft Azure cloud and the migration work will be undertaken by ABeam Consulting Thailand, a trusted implementation partner. RISE with SAP will innovates for critical business areas, including finance, parts supply, warehousing, supply chain and production, and brings together what businesses need to pursue their digital transformation objectives to digitalize faster, more comprehensively and more efficiently in the future.
Data Driven Company Powers by Cloud
Technology and innovation are essential elements in BG's DNA. With SAP, BG aims to be at the forefront. Its intent is to create an intelligent business network with customers, suppliers, and partners, extending the digitalization of processes and enhancing the accuracy and timeliness of information. These are necessary steps as BG responds effectively and efficiently to high volume business growth.
Silparat Watthanakasetr, CEO of BG Container Glass PCL., a subsidiary of BG, shared that in order to support the company's rapid growth and meet the evolving expectations of its customers in highly competitive and rapidly changing markets, they are investing in technology that enables flexibility and scalability, including advanced technologies such as Cloud, Big Data, AI, and machine learning.  "We aim to become a data-driven business powered by a line of connected smart factories, which requires mature analytical processing capabilities on Cloud," Silparat stated.
BG believes that a modern database and a robust ERP system on Cloud are crucial for smart factories, and they have selected RISE with SAP to transition from the SAP  S/4HANA on premise to Cloud ERP system as their digital core. The legacy ERP system was no longer suitable for the company's current size and anticipated business needs, and therefore, they opted for a cloud-based solution.
Through the integration of machines, people, and Big Data into a single, digitally connected ecosystem using SAP solutions on Microsoft Azure cloud, BG hopes to leverage data sets to forecast trends and events and to recommend and implement smart manufacturing workflows and automated processes. Silparat added, "Our goal is to achieve greater efficiency, agility, and innovation, ultimately enabling us to better serve our customers and drive growth across the company."
 BG's endorsement of ERP cloud migration in Microsoft Azure is reflected in positive collaboration between SAP and its hyperscaler cloud provider. Operating in Microsoft Azure, SAP and Microsoft will make migration simpler and increase BG's confidence in running its digital enterprises in the cloud and enable BG to design and operate intelligent digital supply chain and Industry 4.0 solutions in the cloud and at the edge.
"This expanded partnership will enable BG to accelerate its business transformation in the cloud and fuel its future growth," said Atul Tuli, Managing Director of SAP Indochina. "As a result, BG will be positioned to provide the highest value of support and flexibility to its clients, allowing them to simplify and accelerate their business transformations while benefitting from the full value of RISE with SAP, and we are pleased to partner with BG on this full-scale modernization project."
Expanding Strategic Partnership
Digital transformation is not just about implementing solutions. The strategic Partnership has been playing a vital role in helping the company transform the business to the next level.
ABeam Consulting Thailand and SAP have worked together for 18 years and recently
ABeam Consulting is the first company to join SAP's Regional Strategic Services Partner (RSSP) initiative; through this strong partnership allows both to support the needs of enterprise businesses. Together both companies will be driving BG's success.
"We are honored to have been chosen by BG as their implementation partner". Ichiro Hara, Managing Director and SEA Leader at ABeam Consulting Thailand said, "With our vast experience in this field as the highest number of SAP certificates in Thailand, we are fully prepared to assist BG in their digital transformation journey by utilizing the RISE with SAP solution and migrating their existing SAP systems to the cloud. Our team will work as a client-centric and our commitment to client's success as a 'Real Partner' to 'Build Beyond As One.' with BG to providing the comprehensive SAP expertise, strategic guidance, and operational support to ensure that they maximize their investment and achieve their desired outcomes."
The project is expected to be fully implemented by July, 2023.
BG เดินหน้าพลิกโฉมสู่องค์กรที่ขับเคลื่อนด้วยข้อมูลเต็มรูปแบบ ผ่านบริการ 'RISE with SAP'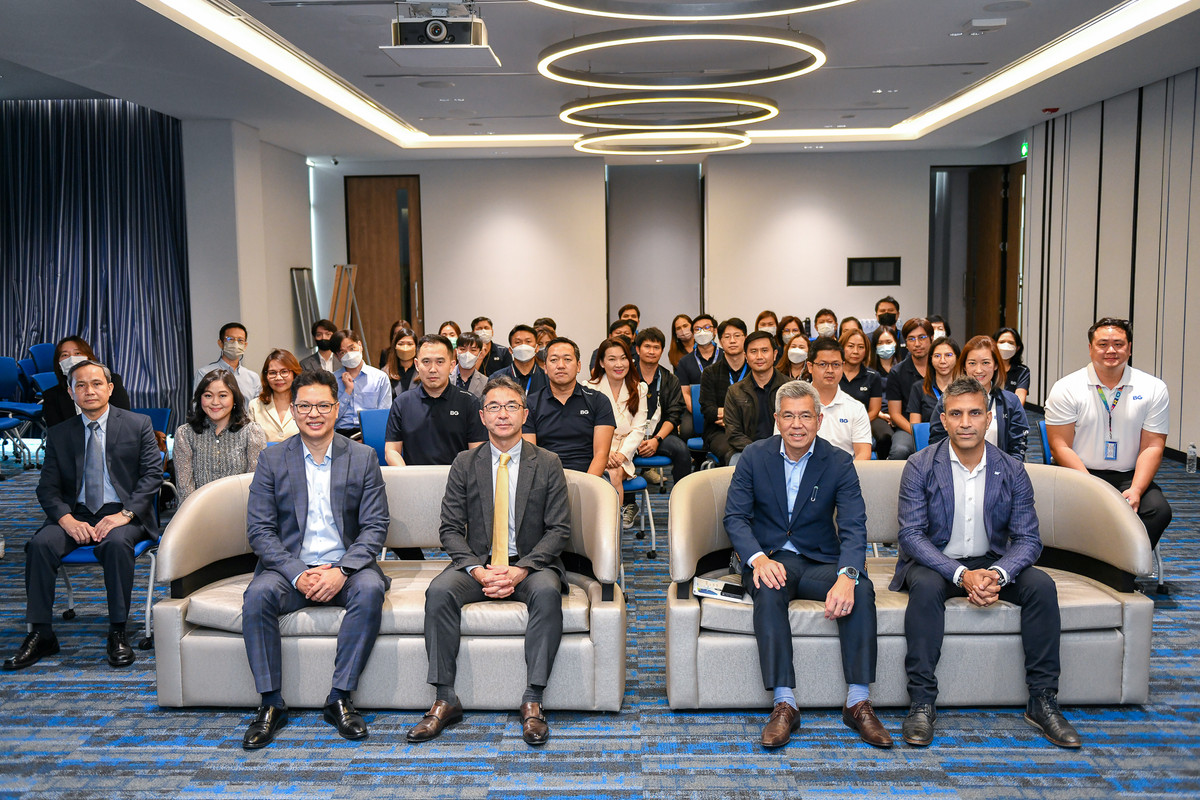 กรุงเทพฯ, 19 เมษายน 2566 —  บริษัท บางกอกกล๊าส จำกัด (มหาชน) หรือ บีจี (BG) หนึ่งในองค์กรรายใหญ่ของไทย และเป็นที่รู้จักในฐานะผู้นำด้านธุรกิจบรรจุภัณฑ์ครบวงจร พลังงานสะอาดและพลังงานหมุนเวียน วัสดุก่อสร้าง กีฬา และอื่นๆ  ประกาศความร่วมมือกับ เอสเอพี ประเทศไทย  และ ABeam Consulting Thailand บริษัทที่ปรึกษาด้านธุรกิจและการทำดิจิทัลทรานส์ฟอร์เมชัน (Digital Transformation) ชั้นนำระดับโลก ในการนำเทคโนโลยีล้ำสมัยมาใช้ในการเร่งเดินหน้าพลิกโฉมองค์กรครั้งใหญ่ ความร่วมมือในครั้งนี้นับเป็นอีกก้าวของความสำเร็จของ BG และ เอสเอพี ในฐานะพาร์ทเนอร์ที่ทำงานร่วมกันมาเป็นระยะเวลานาน โครงการของ BG ถือเป็นโครงการสำหรับการทรานส์ฟอร์มองค์กรที่ใหญ่ที่สุดโครงการหนึ่งของประเทศไทยที่ได้ใช้ซอฟต์แวร์ ERP ของ เอสเอพี ผ่านบริการ 'RISE with SAP' ซึ่งออกแบบมาเพื่อขับเคลื่อนให้องค์กรเติบโตและสนับสนุนลูกค้าได้ดียิ่งขึ้น
จากการขยายความร่วมมือในครั้งนี้ BG พร้อมแล้วที่จะย้ายไปใช้งาน SAP S/4HANA ซอฟต์แวร์ ERP ทันสมัยที่สุดของเอสเอพี เพื่อบริหารจัดการทรัพยากรองค์กร ซึ่ง BG เลือกใช้ SAP S/4HANA private cloud edition บนคลาวด์ของ Microsoft  Azure ซึ่งเป็นโซลูชันหลักที่รวมอยู่ในบริการของ RISE with SAP โดยมี ABeam Consulting Thailand เป็นพาร์ทเนอร์ที่ช่วยในการวางระบบใหม่ทั้งหมด 'RISE with SAP' มีบริการต่าง ๆ แบ่งย่อยเป็นโมดูลตามความต้องการของแต่ละธุรกิจเพื่อขับเคลื่อนนวัตกรรมให้องค์กร ช่วยให้องค์กรสามารถสร้างสรรค์นวัตกรรมสำหรับธุรกิจที่สำคัญ อาทิ การเงิน การจัดหา คลังสินค้า ห่วงโซ่อุปทาน และการผลิต พร้อมรวบรวมสิ่งที่ธุรกิจต้องการไว้ในที่เดียว เพื่อช่วยให้องค์กรบรรลุวัตถุประสงค์ในการทำดิจิทัลทรานส์ฟอร์เมชันพุ่งทะยานสู่การเป็นองค์กรดิจิทัลได้รวดเร็ว ครอบคลุม และมีประสิทธิภาพยิ่งขึ้น
 เดินหน้าสู่การเป็น Data-Driven Company ด้วยพลังคลาวด์
จากแผนการพลิกโฉมองค์กร BG มีเป้าหมายที่จะเป็นผู้นำของอุตสาหกรรมในการใช้เทคโนโลยีเพื่อสร้างเครือข่ายธุรกิจอัจฉริยะ (Intelligent Business Network) กับลูกค้า ซัพพลายเออร์ และพันธมิตร ทำให้เทคโนโลยีและนวัตกรรมกลายเป็นส่วนสำคัญในดีเอ็นเอของ BG ด้วยโซลูชันของ เอสเอพี สามารถทำให้กระบวนการทำงานขององค์กรมีความเป็นดิจิทัลและเข้าถึงข้อมูลได้อย่างรวดเร็ว แม่นยำ และมีประสิทธิภาพยิ่งขึ้น เตรียมพร้อมต่อการเติบโตแบบก้าวกระโดดของธุรกิจในอนาคต
นายศิลปรัตน์ วัฒนเกษตร ประธานเจ้าหน้าที่บริหาร บริษัท บีจี คอนเทนเนอร์ กล๊าส จำกัด (มหาชน) บริษัทในเครือของ BG เผยว่า เพื่อรองรับการเติบโตอย่างรวดเร็วขององค์กรและตอบสนองความคาดหวังของลูกค้าในตลาดที่มีการแข่งขันสูงและเปลี่ยนแปลงอย่างรวดเร็ว BG จึงได้ตัดสินใจลงทุนในเทคโนโลยีที่ช่วยให้มีความยืดหยุ่น และพร้อมต่อการขยายขนาดเพื่อรองรับการเติบโต รวมถึงการนำเทคโนโลยีที่ทันสมัย อาทิ Cloud, Big Data, AI และ Machine Learning มาปรับใช้ในองค์กร "เราตั้งเป้าที่จะเดินหน้าสู่การเป็น Data-Driven Company ขับเคลื่อนโดยโรงงานอัจฉริยะ(Smart factories) ที่ทำงานเชื่อมต่อกัน เพื่อบรรลุเป้าหมายนี้ ซึ่งเราเล็งเห็นถึงความจำเป็นในการใช้เทคโนโลยีที่สามารถประมวลผลเชิงวิเคราะห์ได้อย่างมีประสิทธิภาพบนคลาวด์"
BG เชื่อว่าฐานข้อมูลที่ทันสมัยและระบบ ERP ที่มีประสิทธิภาพบนคลาวด์นั้นเป็นปัจจัยสำคัญในการขับเคลื่อนโรงงานอัจฉริยะ และ BG ได้เลือกใช้บริการ 'RISE with SAP' โดยใช้ระบบ Cloud ERP เป็น Digital Core ในการจัดการทรัพยากรองค์กร แทนที่ SAP S/4HANA โดย BG หันมาใช้คลาวด์โซลูชันแทนเนื่องจากสามารถรองรับการทำงานขององค์กรที่มีขนาดใหญ่ขึ้นและรองรับความต้องการทางธุรกิจได้อย่างมีประสิทธิภาพมากขึ้นในอนาคต
เมื่อเครื่องจักร บุคลากร และข้อมูลขนาดใหญ่ ในองค์กรทำงานเชื่อมต่อกันแบบดิจิทัลเป็นระบบนิเวศเดียวกันภายใต้ SAP S/4HANA private cloud edition บนคลาวด์ของ Microsoft Azure ผ่านบริการของ เอสเอพี BG ตั้งเป้านำชุดข้อมูลต่างๆ มาใช้เพื่อคาดการณ์เทรนด์และเหตุการณ์ที่อาจเกิดขึ้นเพื่อสร้างเวิร์กโฟลว์ของการผลิตที่มีความชาญฉลาดและทำงานได้อัตโนมัติ "เป้าหมายของเราคือการสร้างประสิทธิภาพ ความคล่องตัว และนวัตกรรมซึ่งท้ายที่สุดแล้วจะทำให้เราให้บริการลูกค้าได้ดียิ่งขึ้นและผลักดันให้องค์กรเติบโตได้อย่างยั่งยืน" นายศิลปรัตน์ กล่าวเสริม
การย้ายระบบ ERP Cloud มาที่ Microsoft Azure ของ BG ยังสะท้อนความร่วมมือระหว่างเอสเอพีและผู้ให้บริการคลาวด์ระดับ Hyperscaler ที่ต่างทำงานร่วมกันเพื่อผลประโยชน์สูงสุดของลูกค้า โดยเอสเอพีและไมโครซอฟท์ ช่วยเพิ่มความมั่นใจให้กับ BG ในการใช้งานระบบดิจิทัลขององค์กรบนคลาวด์ ตลอดจนช่วยให้ BG สามารถออกแบบและจัดการระบบดิจิทัลซัพพลายเชนอัจฉริยะ เข้าถึงโซลูชัน Industry 4.0 ในระบบคลาวด์และใช้หน่วยประมวลผลบนคลาวด์ที่อยู่ใกล้กับต้นทางข้อมูลมากที่สุด เพื่อลดเวลาในการเข้าถึงข้อมูล
 นายเอทูล ทูลิ กรรมการผู้จัดการ เอสเอพี อินโดไชน่า กล่าวว่า "การขยายความร่วมมือในการพัฒนาองค์กรให้มีความทันสมัยภายใต้โครงการนี้จะช่วยให้ BG สามารถพลิกโฉมธุรกิจและขับเคลื่อนการเติบโตในอนาคต เรารู้สึกยินดีเป็นอย่างยิ่งที่ได้เป็นพันธมิตรกับ BG เพื่อช่วยให้องค์กรสามารถทรานส์ฟอร์มธุรกิจได้อย่างรวดเร็วและได้รับประโยชน์จากการใช้บริการ 'RISE with SAP' อย่างเต็มที่เพื่อช่วยลดความซับซ้อนในการจัดการธุรกิจและช่วยให้ BG สามารถสนับสนุนลูกค้าได้เต็มประสิทธิภาพ"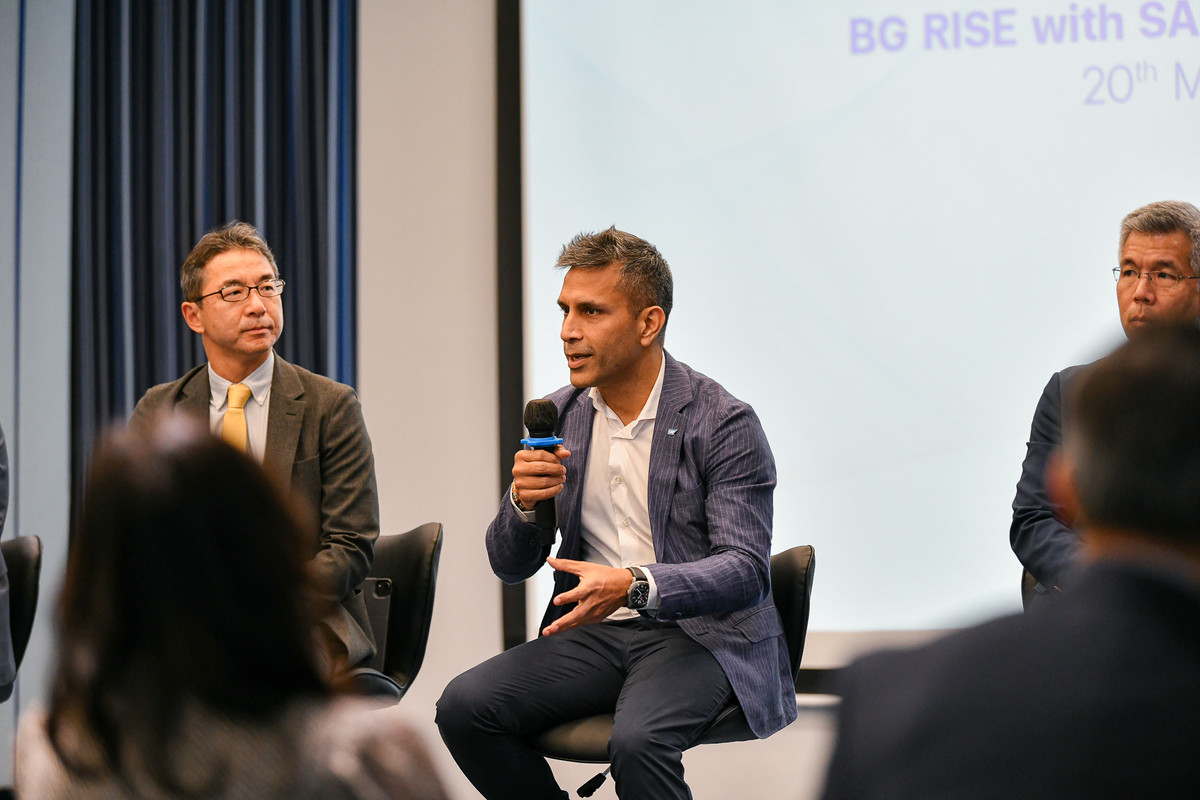 การขยายความร่วมมือเชิงกลยุทธ์
การทำ Digital Transformation ให้ประสบความสำเร็จไม่ใช่แค่การนำโซลูชันไปใช้เท่านั้น แต่จำเป็นต้องอาศัยความร่วมมือระหว่างองค์กรด้วยเช่นกัน ความร่วมมือเชิงกลยุทธ์ภายใต้โครงการนี้จะสามารถช่วยให้ BG มีความก้าวหน้าทางธุรกิจไปสู่อีกระดับ ABeam Consulting Thailand และเอสเอพี ทำงานร่วมกันมาเป็นเวลา 18 ปี รวมถึง ABeam Consulting เป็นองค์กรแรกที่เข้าร่วมโครงการ Regional Strategic Services Partner (RSSP) ของเอสเอพี ความร่วมมือที่แข็งแกร่งนี้ทำให้ทั้งคู่สามารถรองรับความต้องการของธุรกิจได้เป็นอย่างดี พร้อมช่วยขับเคลื่อนสู่ความสำเร็จของ BG ในปัจจุบันและอนาคตได้
นายอิชิโระ ฮาระ Managing Director and SEA Leader ของ ABeam Consulting Thailand กล่าวว่า "เรารู้สึกเป็นเกียรติอย่างยิ่งที่ได้รับเลือกจาก BG ให้เป็นพันธมิตรในการดำเนินงาน ด้วยประสบการณ์อันยาวนานของเราในด้านนี้ รวมถึงการได้รับการยืนยันว่าเป็นองค์กรที่ได้รับ SAP certificates มากที่สุดเป็นอันดับหนึ่งในประเทศไทย เราจึงมีความพร้อมที่จะช่วยให้ BG ประสบความสำเร็จในเส้นทางการเปลี่ยนแปลงสู่การเป็นองค์กรดิจิทัลผ่านการใช้บริการ 'RISE with SAP' บนคลาวด์ โดยทีมงานของเราจะทำงานโดยคำนึงถึงประโยชน์ที่ลูกค้าจะได้รับเป็นหลักและมุ่งมั่นที่จะสร้างความสำเร็จให้แก่ลูกค้าในฐานะ 'Real Partner' เพื่อ 'Build Beyond As One' ร่วมก้าวไปด้วยกันกับ BG ตลอดจนมอบความเชี่ยวชาญที่เรามีในการติดตั้งระบบของเอสเอพี การให้คำแนะนำเชิงกลยุทธ์ และการสนับสนุนด้านการปฏิบัติงาน เพื่อให้แน่ใจว่า BG จะบรรลุผลสำเร็จตามเป้าหมายและคุ้มค่าต่อการลงทุน"
สำหรับโครงการ Digital Transformation ครั้งนี้ คาดว่าจะแล้วเสร็จในเดือน กรกฎาคม 2566 นี้
For more information, press only:
Wuttinan Thongnuadee:  wuttinan.thongnuadee@sap.com