HANOI, Vietnam – SAP SE (NYSE: SAP) today launched the Vietnam SAP User Group (VSUG), an independent user group of SAP customers in Vietnam. The group's mission is to provide its members with necessary resources and tools to its members to maximize return on SAP investment and strengthen the country's SAP community, also co-innovate further SAP solutions.
With more than 440,000 customers globally, SAP has been in the business of providing sustainable intelligent technologies to businesses across industries and governments worldwide. Over the past years, the number of SAP customers in Vietnam has grown significantly. Many customers are looking for a network to help them drive innovation and exchange their ideas and feedbacks to maximize their SAP solutions.
Viet Nguyen, Managing Director, SAP Vietnam, said: "It was clear on the vision we have in mind at SAP Vietnam is to help our customers become 'The Best-Run Business'. In Vietnam, we have now reached a stage where all the SAP customers would benefit from coming together as a community. This is the opportune time to have the user group in Vietnam as users will be able to exchange information and ideas of mutual interest and value as well as share their best practices with industry peers, technology experts from SAP and our partners to fuel the full benefits of SAP software."
SAP currently has 47 user groups worldwide, with Vietnam SAP User Group being the latest one launched. The SAP User Groups are supported by the Global User Groups organization, which is an independent, not-for-profit group which helps educate members, facilitate involvement, and influence SAP strategy
The purpose of the user group is three-fold; networking, skill buildings, and accelerate business's productivity and innovation. As a member of Vietnam SAP User Group, members will receive information and education about SAP products, solutions, technologies, and services. Members will be able to network with members across diverse industries within the country and worldwide. This will help when company would like to build a transformation roadmap and drive future direction and growth. Members can also provide SAP with user feedback in all technical and functional areas of interest to help shape and influence SAP's future product direction.
Aiming to support Vietnamese customers to master real impact and connect the people who make the business keep moving forward, Vietnam SAP User Group kickoff ceremony has organized on 22nd February, 2022 to celebrate and strengthen Vietnam SAP community. The event was attended by Vietnam SAP User Group founding member who volunteer as the board members to govern Vietnam SAP User Group and drive user community. Current board members are;
Mr. Hang Sam Nang, National Digital Transformation Consultant U.S. Agency for international Development (USAID)
Mr. Tran Trong Hung, IT Deputy Director of Novaland Group
Mr. Nguyen Duc Long, CIO of Mavin Group
Mr. Pham Nhat Phuong, Chief Digital Officer of Ecotek Corp.
Mr. Nguyen Tuan Cuong, Director of Enterprise Support System Center – IT Division, VPBank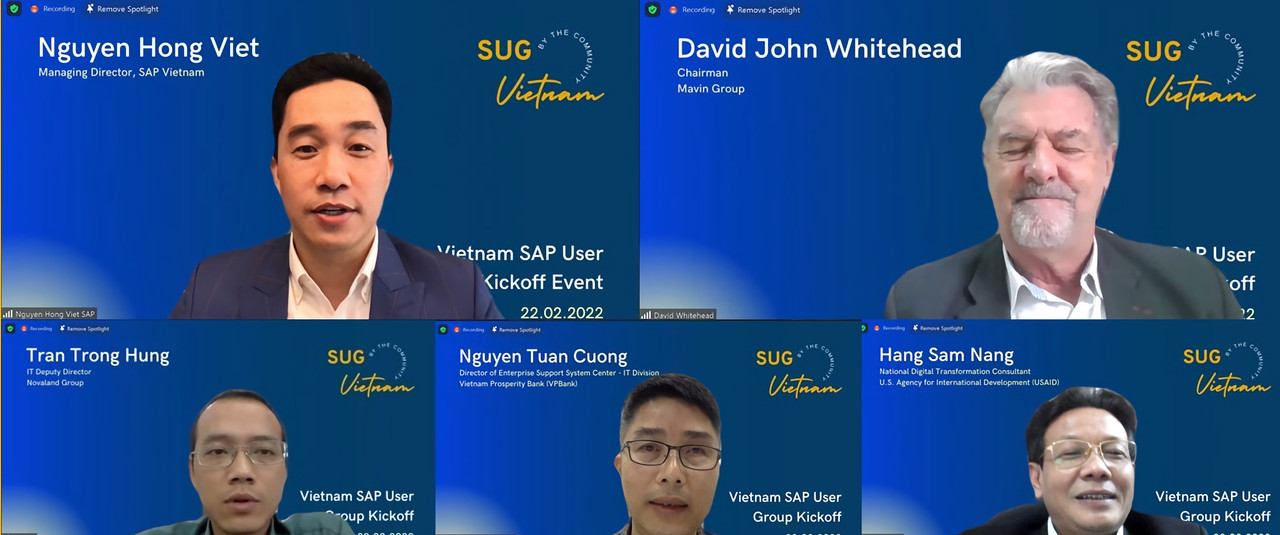 "One of the benefits for being a member of SAP user group is we can help shape the future of SAP software development by providing SAP with user feedback in all technical and functional areas of interest which will help influence SAP's future product direction." said Viet Nguyen, Managing Director, SAP Vietnam. "SAP Solution and Strategy Update session at Vietnam SAP User Group kickoff ceremony has organized to set the cornerstone for customers success to Vietnam SAP user groups. We have renowned for our vast product, solution, and services portfolio across all industries and lines of businesses. These knowledge transfer for SAP User Groups offerings provide a big picture overview of SAP's portfolio, diving into details as we go along and the latest information on roadmaps, technical and business updates. This is the demonstration of Vietnam SAP User Group's mission to help members learn from network and collaborate with each other, SAP experts, SAP partners and the whole SAP community, as well as providing an independent channel through which to influence SAP. Viet added.
To become a member of Vietnam SAP User Group, user can register at https://vnsug.mn.co/?autojoin=1
For more information, press only:
Wuttinan Thongnuadee:  wuttinan.thongnuadee@sap.com